If you don't really know much about golf then don't worry, this post is still for you. I never thought I'd ever become a fan of golf, but when I was properly introduced to the game by my husband four years ago, it became an instant love affair. I've heard a lot of people tell a similar story! So who knows… maybe this little insight into my love of the game and some of my personal experiences, may be enough to kickstart your own interest into the sport? Lets see!
WHAT'S TO LOVE ABOUT GOLF?
1. ANYONE CAN PLAY IT – Age is not a barrier and it's actually one of the few sports we can enjoy in our older years, when our bodies start to slow down.
2. IT'S BOTH A PHYSICAL & MENTAL CHALLENGE – the game requires skill and strategy plus a huge amount of focus away from the usual noise of modern day society. Like meditation, the golf headspace is a discipline and one that I believe is valuable for all aspects of your life.
3. IT'S NOT EASY – Golf is one of those sports that will always have you on your toes – you can't just pick up a club and be amazing at it - I love this because I love a good challenge! It's like all the stars have to align to master it: fitness, calm, precision, focus plus an understanding of your own strengths & weaknesses. It's one of those sports where trying too hard can work against you (it's a head game) plus you don't need to be the fittest person in the room to be good at it. Everyone has a shot when it comes to golf because there are so many other factors that are just as important as your physical ability.
4. IT'S FUN EVEN IF YOU'RE PLAYING A PRO – Because of the handicap system used in golf, players with varying abilities can compete against each other and still have a competitive game. Which basically means you can play against anyone you like and still enjoy it.
5. A GREAT WAY TO SPEND TIME TOGETHER – golf is a great way to spend time with family and friends because you can walk-and-talk your way around the course in a relaxed environment. Plus you can soak up some fresh air and sunshine at the same time.
THE BUCKET LIST
For over twenty years my hubby has dreamed of one day attending the Masters in Augusta (USA) it's the greatest golf tournament of them all and anyone who has an interest in the game, has an interest in this tournament. On his birthday this year I surprised him and announced that we're ticking this off his bucket list (finally) – his reply was "best birthday present ever!". To be honest I was amazed I could even make it happen – finding 4 free days in our diary is no easy feat (at this point big thanks go to Mark Plunkett who helped shuffle things around so I could squeeze it into our schedule) and as soon as we concluded our work commitments in Sydney, we jumped on the first plane direct to the USA and managed to catch the final three days of the tournament with the beautiful Player family, who so generously also helped me make this dream a reality for him.
If you haven't heard of Gary Player, Black Knight International, or The Player Foundation please take a moment to google… Gary is one of the greatest legends in golf and all of his family (as well as the team around them) are nothing short of inspiring. We have been so spoilt these last few days, not just because we attended the Masters, but because we got to experience it with these wonderful people who made it extra special for us.
HERE ARE THE HIGHLIGHTS:
** Arriving via the infamous Mangolia Lane – a magnolia tree lined avenue that few people get to drive down. It's how the players and and their families arrive – final destination being outside the Augusta National clubhouse.
** Seeing my hubby teary after Gary Player took him to visit the Champions Locker Room… the very place where golfing legends have hung their coat and changed their shoes. Few people get to experience something so special and he was completely overwhelmed (very sweet).
** Following our friend, Lee Westwood, around the course & watching him fight his way to the top - finishing the tournament in second place! His eagle on the 15th had us all jumping around and screaming like teenage girls at a One Direction concert.
** Lee was paired on the final day with fellow Brit, Danny Willett, so we also got to witness Danny's steady climb to victory and being awarded his very first green jacket.
** Sipping G&T's in the glorious sunshine and taking in the sweeping views of perfectly manicured green grass speckled with thousands of spectators.
** Although it's the pimento cheese sandwich that's synonymous with the Masters and over the years has become an institution… for me it was the BBQ pulled pork sandwiches that took the trophy. They were definitely a highlight!
THE WARDROBE
SPECTATOR WARDROBE
Some people took the sporty approach at the Masters, but unless I'm playing I prefer to keep things more summertime chic. COMFY SHOES and a HAT are the most important things to work into your outfit, plus I advise dressing in layers as the temperature can drastically change across the day.
PLAYER STYLE
My golfing wardrobe is predominantly Nike and Ralph Lauren. The way I see it is Nike offers fun colours, trendy styles and good fits using technical fabrics and design, while Ralph Lauren offers elegance and class. Both are great quality and super comfortable on the course. Other good brands to try are: Calvin Klein, Golfino, Tommy Hilfiger and Callaway.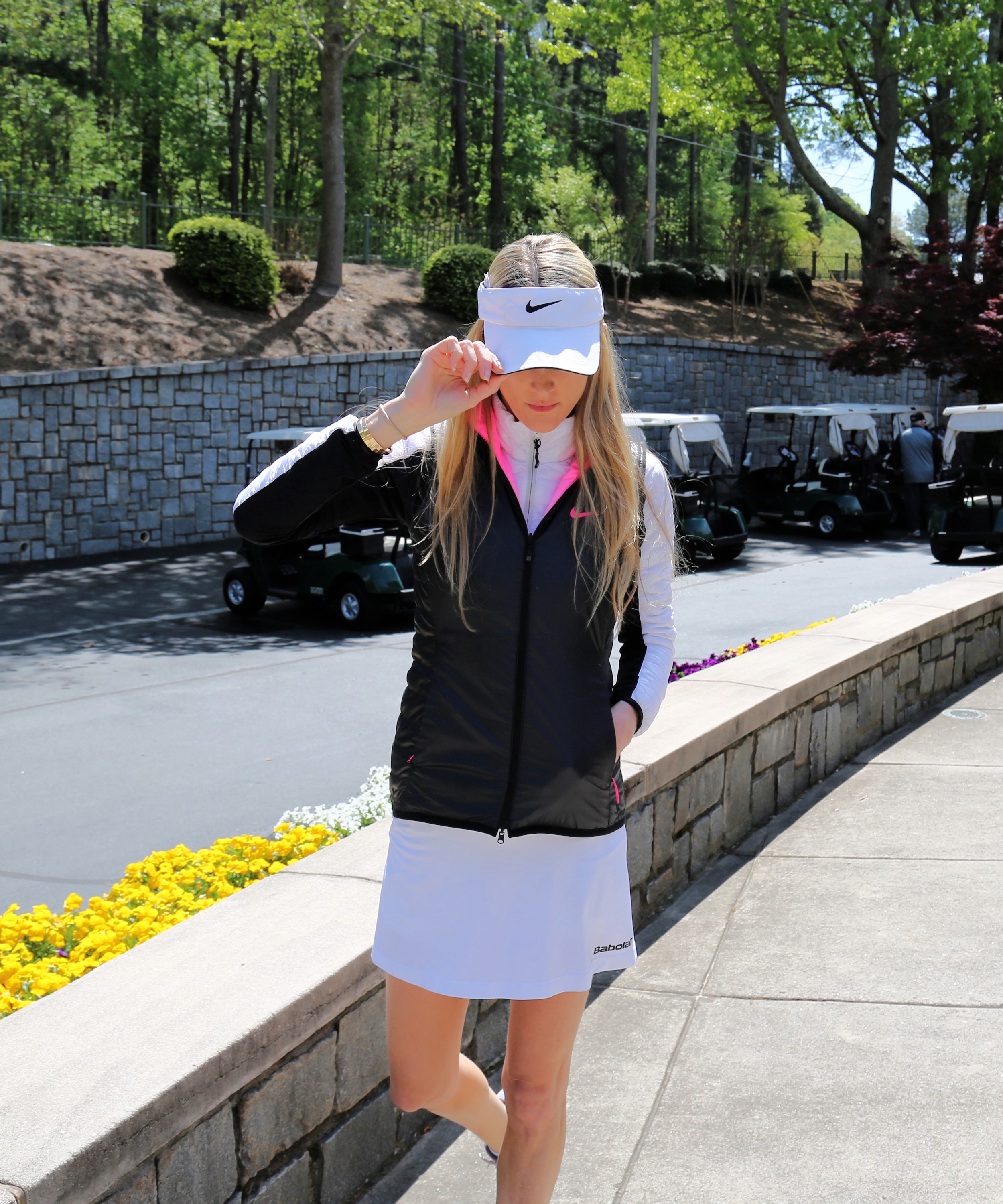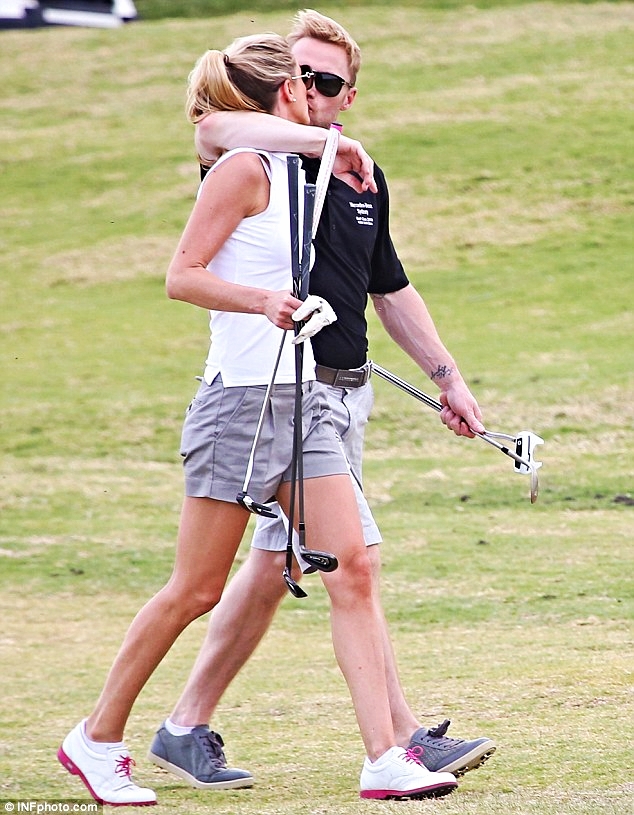 TIP: If you can't find what you're looking for in a brands golf range – check out what they're offering in their tennis range OR take a look at what tennis brands like Babalot, Head, Yonex, Wilson and Lacoste are offering (Asics & Nike do a great tennis range too). Compared to golf, tennis seems to be ahead of the game when it comes to blending fashion & sport plus their sizing is less traditional to compliment the modern fit.
Sx